TL GUN SHOP Mobile
!
Connect to TL GUN SHOP Everywhere !
In 1 click, connect to TL GUN SHOP with your Mobile phone or your Tablet whenever you want and wherever you are !



Available for all Mobile Phones, Tablets and Smartphones

connected to internet...



e.g.

: Samsung Galaxy Note, Smartphone, pads, Apple Iphone or Ipad, Sony Xperia, LG, Nokia, etc... All operating systems (Androïd, IOS, Bada, Symbian, Windows Mobile and Phone, etc...) and all navigators (Opera, Google Chrome, Mozilla Firefox, i.explorer, etc...)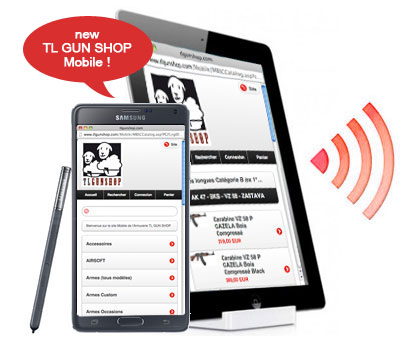 illustration - Order on TLGUNSHOP.COM with your Mobile phone or Tablet !
Don't waste your time !
Take your Mobile phone or your Tablet in hand,
And enter TLGUNSHOP.COM into your favorite navigator...
Good surf !


The TL GUN SHOP Team
Note

: By connecting with your smartphone and a recent browser, you will have access to a light version of TLGUNSHOP.COM.



Instructions

:



1.

You surf on TL GUN SHOP Mobile and order.


2.

We verify your order (stock and shipping costs) and send you by email (under a 24 h working-day delay) a payment request.


3.

You finalize your order and pay like you want : From your Mobile device (by CB Mobile or transfer payment), or more classicaly from your personal computer...


Contact-us for more information.